This post may have affiliate links, which means I may receive commissions if you choose to purchase through links I provide (at no extra cost to you). As an Amazon Associate, I earn from qualifying purchases. Read more about these links in my disclosure policy.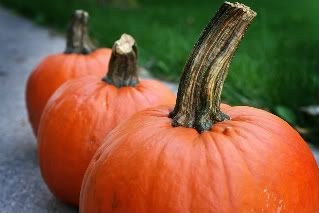 All it took was three.  Three wonderfully orange pumpkins.  Not too big, not too small.  The perfect size for little hands to hold, and carry, to the yard.  The adventure was about to begin.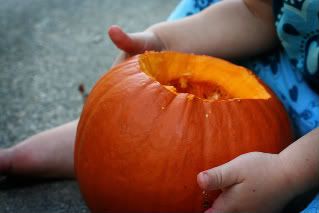 We took off the top, exposing all the gooey, stringy, seedy goodness.  All that we were about to experience was now right in front of us.  We happily and energetically dug right in.  Scooping out seeds and mush… using spoons and then hands.  It just feels better using hands, getting back to nature.


The seeds were washed, salted and baked, making for a great little snack during our afternoon project.
As for the rest of the pumpkin, the rest is history.  Or, I guess you could call it Pumpkin Butter.
It's the taste of
Pumpkin Pie in a jar.
I would be happy with a bowl of it topped with whipped cream!
Our recipe:
3 Pie Pumpkins
3 cups sugar (I use organic cane sugar)
2 tablespoons cinnamon
1/2 teaspoon ground ginger
1/2 teaspoon ground cloves
1/4 teaspoon nutmeg
Gut the pumpkins (we wash the seeds well, layout on a cookie sheet and salt.  Bake for 45 minutes @ 300, you can also add Worcestershire sauce and garlic salt for spicier pumpkin seeds)
Quarter the pumpkins and boil or bake until soft.  I like to bake, it preserves more of the flavor. Just cut in half, scoop out seeds and strings, place face down in a baking pan with about 1C of water. Bake at 350 for about 90 minutes.  When tender, scoop the flesh out of the peels and puree in food processor.  Add pureed pumpkin and other ingredients in a saucepan over medium heat.  Cook for 20-25 minutes and ladle into canning jars.  Flip jars upside down on counter to seal or place in water bath.
Enjoy!!