This post may have affiliate links, which means I may receive commissions if you choose to purchase through links I provide (at no extra cost to you). As an Amazon Associate, I earn from qualifying purchases. Read more about these links in my disclosure policy.
This homeschool room was a dream makeover!! Literally, we had dreamed of creating more space in the garage to use for our family, specifically a homeschool room that could double as guest room and theater room.
With a little effort (okay three weeks of our novice DIYer push-through attitude and grit) that dream has turned into one of our favorite family spaces in our home, so keep reading to check out our garage turned homeschool room remodel!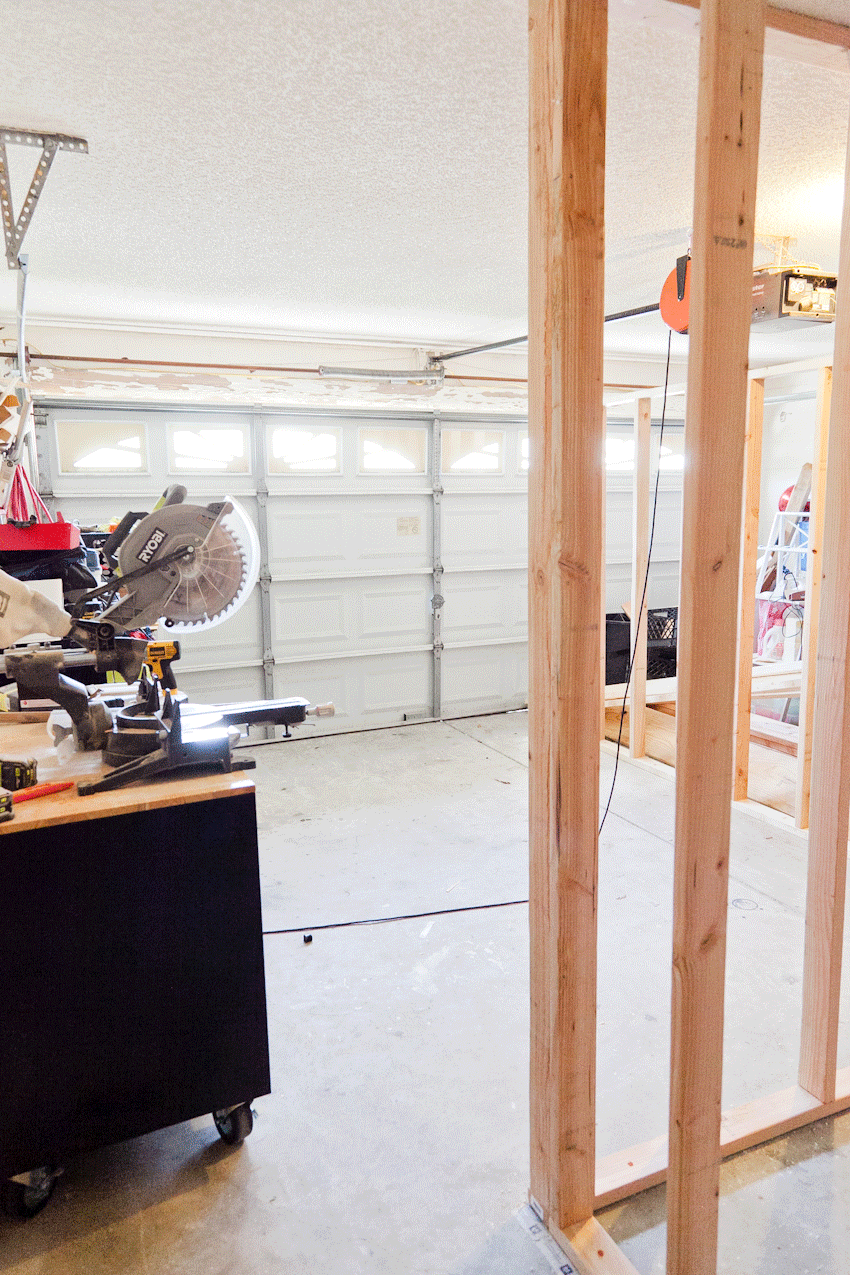 I am SO excited to share this Garage turned Homeschool Room makeover!
House to Home: From Garage to Homeschool Room
In Florida, we don't have basements like I was used to up north. What I've noticed is that most homes around here use the garage as a storage/basement type of room. We knew right away when purchasing this home that our laundry area would be relocated to our garage because we needed to turn that little laundry closet off of the kitchen into a pantry.
With that renovation complete, it was time to turn our attention on the garage. And goodness what a project it has been!
We began with planning, lots and lots of planning. With ANY room makeover or home renovation project, planning is key. The more you talk things out (and use painter's tape to plan wall and furniture placement), the better off you'll be as you get started on the project. We wanted to house a new multipurpose room WITHIN our garage walls… meaning we still have a functional garage door with storage space as well as a new sealed-off-from-the-weather laundry area that will be the focus of another makeover later on.
AND NOW we have a new homeschool room (that we can use as a guest room with the pull-out couch AND a theater room).
So, once we had walls marked out with tape, and figured out the maximum height of the new ceiling, while still being able to use the garage door on the outside of the room, we cleaned out the garage and got to the real work.
With walls and ceilings framed, we added insulation to all of the walls that would touch the outside weather. We also added a layer of plastic weatherproofing before adding in drywall on those outside walls for an extra element of moisture-proofing ('cause ya'll, it's humid in Florida!).
The kids all helped to pitch in with as many projects as we would allow!
When it came to flooring for our homeschool room, I am SO HAPPY WITH THIS CHOICE. I actually like it better than the flooring in the rest of the house.
After replacing the rest of the flooring in the rest of our home, it was a job we weren't fully looking forward to but knew that it needed to be done.
Related: See another portion of our garage that is converted into the new Laundry room!
You guys, the Tarkett ProGen DIY flooring went in within a couple of hours! Everything can be done with a standard toolset and easily cut with a basic utility knife. Plus, it requires no acclimation time (most other flooring requires 24 hours of acclimation time in the room you plan to install it, like the flooring we've used before). This one can be installed the same day you receive it – a huge timesaver! 
To really make this homeschool room multi-purpose, we added in a pull-out couch so it can be used for a guest room when needed. Since there are no windows in the room (because it's inside a garage), it get's really dark with the lights off. The upside to this? It's a perfect room to hold our projector! We left the wall above the kids' desk intentionally blank and installed a wall shelf on the opposite wall to hold the projector, Roku box, and speaker. Now, we can also use this room as a home theater!
We also decided to create our own educational art for the room to add in that vintage, farmhouse vibe. You can read more about that here, and get your own set of prints in the shop!
To add in some texture, we added a rug… and I'm SO loving this washable rug from Lorena Canals.
Waterproof flooring + washable rug + Scotchgarded couch = PERFECT family space!