This post may have affiliate links, which means I may receive commissions if you choose to purchase through links I provide (at no extra cost to you). As an Amazon Associate, I earn from qualifying purchases. Read more about these links in my disclosure policy.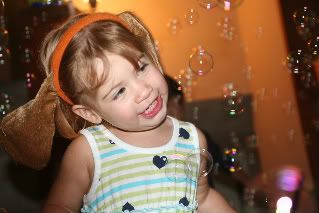 It's been a week since Baby Blue's birthday party already, so I figured I'd give you a little look at the big day. Because of all the rain brought on by 'Ike' we had to move all the festivities indoors, even though we were states away. The Puppy Party was still a hit! Baby Blue and all of her friends had so much fun.
Decor: We found materials that featured modern puppies, had balloons galore with paw prints and my sister-in-law even dressed up in a puppy costume to greet all the kids and give them their puppy ears and noses to wear.
Food: Mini BBQ hotdogs, chips served in dog bowls, paw and dog bone shaped sugar cookies, and a candy buffet featuring puppy style candy, ie. candy that looked like dog food (whoppers, peanut butter whoppers, M&Ms that matched the color theme, Kix, jellied 'hot dogs', and kooky chew), and chocolate milk in a dog bone cup.
The cake was a cupcake cake in the shape of none other than a doggie.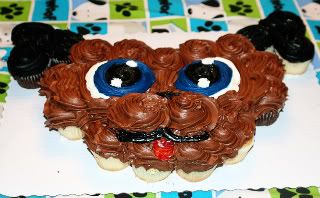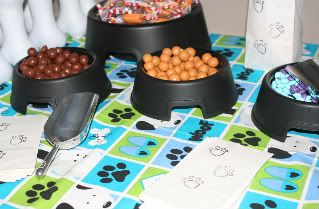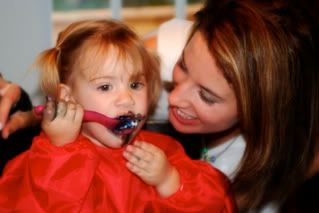 Activities: Puppies! We had 4 adorable eight week old labradors visit for the party and the kids fell in love. They (the kids, not the dogs) also decorated their own 'dog tags' with beads and markers. Of course we had a dog bone pinata filled with treats & toys, and everyone signed Baby Blue's birthday puppy.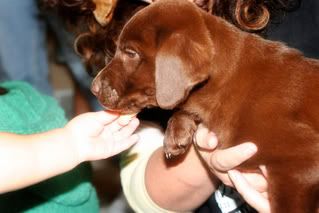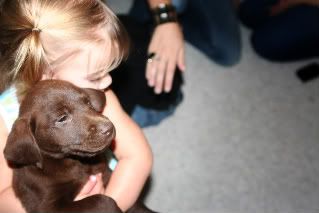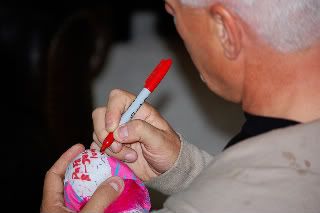 The Doggie Bag: Full of more candy, small toy (noisemaker or yoyo), puppy notebook and pencil, kooky chew and dog tattoo.
Hmmm, did I forget anything? Probably, but this post is long enough.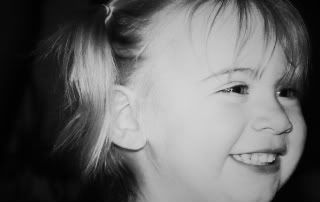 We had a great time, thanks for all who came!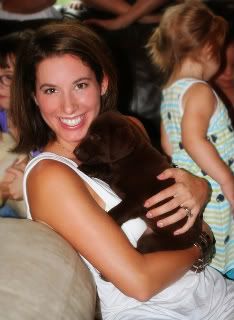 …till next year