This post may have affiliate links, which means I may receive commissions if you choose to purchase through links I provide (at no extra cost to you). As an Amazon Associate, I earn from qualifying purchases. Read more about these links in my disclosure policy.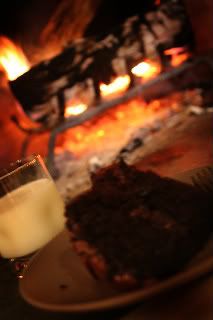 I feel satisfied.  I feel full.  
I feel satisfied that the day has been spent well, that I have my family around me that I love and that loves me.  I'm satisfied that we enjoy each other.
I feel full after a good dinner.  A bit later, after Baby Blue is tucked into bed and sleeping, a little nightcap of moist chocolate cake and cold milk by the crackling fire with the man of my life.
The crumbs left lying on the tray leave a trail of the satisfaction I feel.