This post may have affiliate links, which means I may receive commissions if you choose to purchase through links I provide (at no extra cost to you). As an Amazon Associate, I earn from qualifying purchases. Read more about these links in my disclosure policy.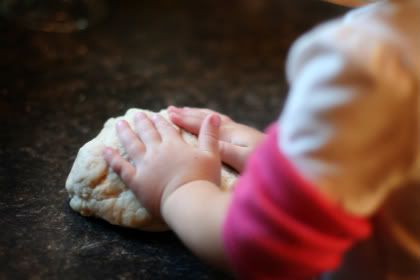 I've been on a mission. A mission that seemed to be overwhealming. I mean, there is only so much time in a day. This mission would've included my bread machine, and that would've made it simple. But, to my dismay, my bread machine decided that it did not want to participate in this very important mission… the mission of making simple, healthy bread for my family. Have you ever actually read the ingredient list on store bought bread? There are only a few words on there that I can recognize and pronounce… thus my decision to take on this mission.


It took me a few days to gather the strength to begin. In my head whirled words like measuring, mixing, keading, rising while you carefully watch (more than once!), and precision baking. I've tried to make bread before. With the help of my machine friend, I've made wonderfully moist and delicious bread, but lately it's not been cooperating and has produced wonderfully smelling rocks and lumps.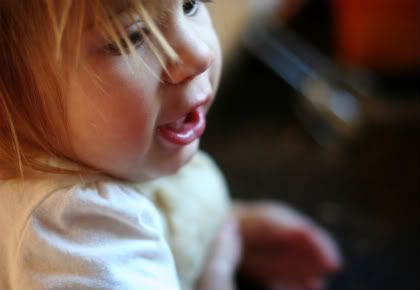 So, I decided to make it… by hand. Luckily I had help. I enlisted the help of a precious little two year old, and she was more than happy to oblige. The results weren't instant, but the gratification was divine… for we produced a superb loaf of bread, and the kitchen is asking for more.

Now, I think I'll experiment with other ingredients to make cinnamon bread, and chocolate chip something… 
Our recipe:
2 tbsp warm water
1 1/2 tsp yeast 
1/2 tsp sugar
1 1/2 C flour (whatever kind you prefer… I use whole wheat usually)
1/4 C butter (or shortening if you prefer, it is available organic)
1/4 C sugar (I use organic cane sugar, or sometimes substitute honey)
1C warm water
Pinch of salt
Put warm water, yeast and sugar in bowl to sit about 15 minutes.  In the meantime, mix the rest of the ingredients in a large bowl, then add the yeast mixture and mix thoroughly for a few minutes (about 4), remove from bowl and knead (basically just mixing and folding with your hands, kids love helping with this part).
Place dough in greased bowl, covered with damp cloth, and allow to rise for about an hour.
After it rises, knead again to eliminate any bubbles and place in a greased bread (loaf) pan.
Allow to rise for about an hour, uncovered.  
Bake for 30 minutes in a 350 degree oven.  Makes one delicious loaf.
Enjoy!