This post may have affiliate links, which means I may receive commissions if you choose to purchase through links I provide (at no extra cost to you). As an Amazon Associate, I earn from qualifying purchases. Read more about these links in my disclosure policy.
What to do when you feel have a toddler that likes to put everything in their mouth, and you want to play with playdough… make some of the edible variety.
The evening began to unveil a very creative flair.
Making silly faces was at the top of our list.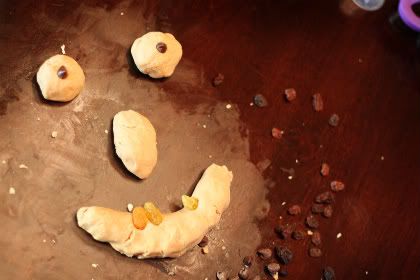 It wasn't good enough that the faces were on the table, we had to make these silly faces a little more personal.  Who doesn't like bugging eyes!


Cookie cutters gave us the chance to make some fun shapes too, although smashing the dough down was much more fun.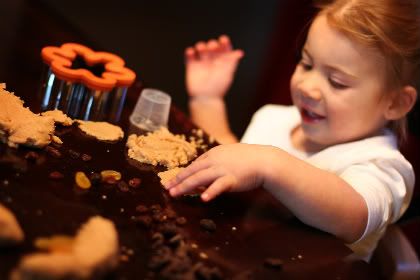 It takes concentration, deep concentration that makes your face change shape, to mold our special playdough into the intended design.


… or just smash it down again, that really is the most fun.


I like my little snowman.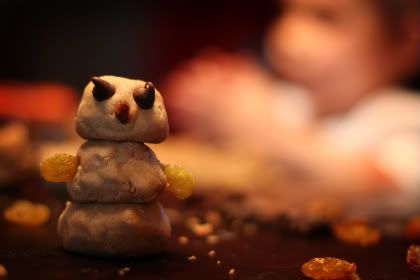 Baby Blue did too, and wanted to make one herself.  As she did, she ended up eating the arms before they made it to his little body.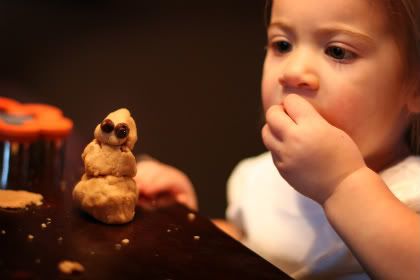 I think the favorite part of the whole evening was destruction.  Baby Blue took out all of her two year old aggression on the dough and loved crumbling it up tiny little piece by tiny little piece… every single part.


Want to try?  Just mix equal parts cornstarch (or powdered milk) and creamy peanut butter, you can always add powdered sugar or coco to add more flavor (chocolate peanut butter playdough anyone??).  We also used raisins, golden raisins and chocolate chips as accessories.  Food + creativity = a whole night of fun!