This post may have affiliate links, which means I may receive commissions if you choose to purchase through links I provide (at no extra cost to you). As an Amazon Associate, I earn from qualifying purchases. Read more about these links in my disclosure policy.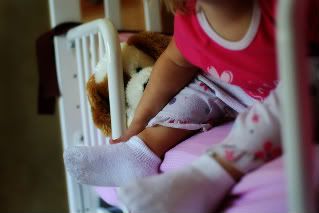 Change is upon us.  Fall is here.  New days have come.  Time doesn't stand still.  Babies turn into Toddlers.  
No longer is the nursery featuring a crib along with all the pretty pink and brown accompaniments.  Oh, the pink and brown is there,
just a little bit more grown up.
 For this week was the week of the toddler bed.  Baby Blue loves it.  She loves the independence.  She loves being able to climb in and out all on her own.  
I love that she's growing up too… and I hate it.
 I love the little girl she's becoming and miss the baby that she once was.