This post may have affiliate links, which means I may receive commissions if you choose to purchase through links I provide (at no extra cost to you). As an Amazon Associate, I earn from qualifying purchases. Read more about these links in my disclosure policy.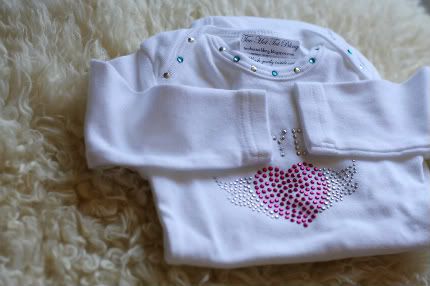 I couldn't be happier
when I received this unique custom made onesie for a very special little baby (whose name I can't disclose yet… edited to add *and since you're now wondering, I'm not pregnant*).  A mommy owned and operated business,
Too Hot Tot Bling
designs to your specifications, where each design arrives in a pretty organza gift bag.  And most importantly, they offer some seriously cool bling for tots!  
This little onesie is so soft and adorable… and with so many great styles available, I seriously wish I could order one in my size.  I just want to keep ordering more.  I love it when I can find something unique and cute.  Good, soft, unique
and
super cute onesies.  They totally are.  You can follow
Stephanie's blog
, and check out all her wonderful creations there too.  Here's to the cutest of bling!
Here are a few more Fab Friday Finds:
@
WrestlingName.com
: Find out what your pro wrestling name would be.  Lots of laughs with this one… to my husband, I am now referred to as Molly Pinup and he is my Professor Kingpin.
@
On Simplicity
: Now we know the 20 hidden ways our stuff screws us over.
@
Cozi
: A great,
free
place to help organize your family life.
@
Blissfully Domestic
: Get on board with this series of 10 Things Your Husband Wishes You Wouldn't Do.
Enjoy the links and Happy Weekend!