This post may have affiliate links, which means I may receive commissions if you choose to purchase through links I provide (at no extra cost to you). As an Amazon Associate, I earn from qualifying purchases. Read more about these links in my disclosure policy.
Happy almost-Christmas, beauties! With our Christmas Eve this year comes family dinner, and since we don't have any family in town this week, it will be for the five of us. Well, let's just say a table of four since one of us will drooling in a brightly colored bouncer, I just won't name any names.
I love dinner parties during the holidays, whether it be our own little family or with a house full of loved ones. Bringing in contrasting textures in neutrals, natural greens and a little shimmer gives the room a warm and comfortable feel, perfect for a cozy, winter dinner. Below I've rounded up some of my favorite inspiration that I've been pinning lately.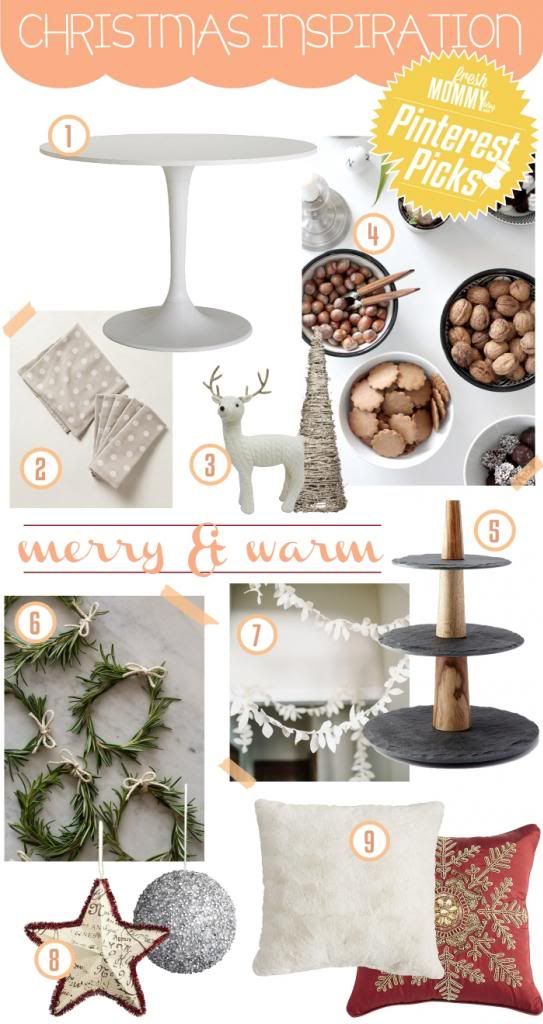 I've had my eye on this simple white table from Ikea for awhile now (which would naturally fit in our kitchen eat-in area), though I don't have it yet, it's the perfect base for hosting a small and cozy dinner party. When keeping the table and plateware simple, you can use food as a decoration. If table real estate is an issue, keep a couple of small bowls of side dishes on the table, but to save valuable space, serve the rest in the kitchen or on an alternate "buffet" table. For the place settings, instead of spreading out dishes and silverware, stack, stack and stack some more. Wrap silverware in your favorite linen napkins, and create a napkin ring to style and place on top of the dishes… it will take up less table space while still looking put together.
The key to using a small table for a dinner party is to think tall… to decorate upwards. Use a tall, thin centerpiece keeps the eyes high and a tiered stand can double as table decor as well as serve up food. Sometimes, I do remove centerpieces from the table during dinner if they're too tall that they block the view from across the table, so feel free to do so as well.
Alternatively, a dinner party can be as simple as collecting a few greens from your backyard and using those as a centerpiece! Use your imagination. A way to make your festivities last a good long while is to bring the decor away from the table itself, create a garland from white felt, or some of those greens you've collected, and hang above the table. Bring in some matching pillows for your chairs, besides adding comfort, you're bringing a whole new level of lux to dinner. Add in an ornament to each guests' place setting as a favor they can take home and remember your dinner indefinitely.
Most importantly, have fun! I hope you're ready for a very Merry Christmas, no matter if you're celebrating with few or with many.
What plan's do you have for Christmas this year?
xo
Shop the post: