This post may have affiliate links, which means I may receive commissions if you choose to purchase through links I provide (at no extra cost to you). As an Amazon Associate, I earn from qualifying purchases. Read more about these links in my disclosure policy.
The time had finally come.  The costume was on and fit perfectly, the bag was painted with her name, the weather was delightful and we could set off to Trick or Treat.  This happened to be my first time, as well as Baby Blue's.  We met up with some friends, and began our journey through the neighborhood.
Baby Blue was very excited about this particular friend joining her.  She loves spending time with her cousin.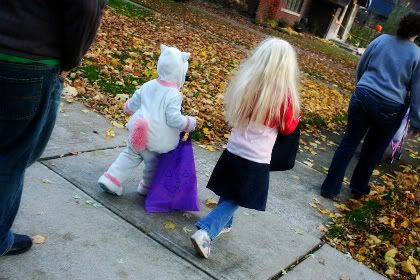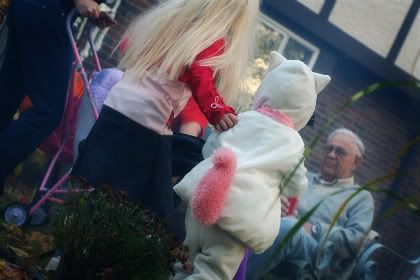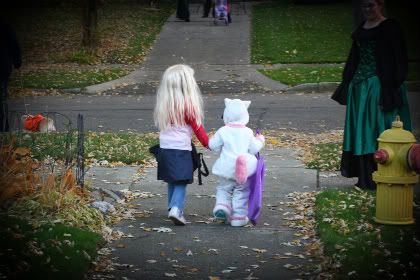 It was a laid back affair for us all.  Very mellow indeed.  That's just how I like it.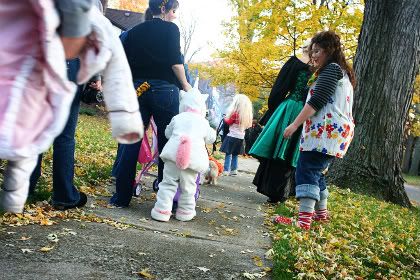 Of course, the night wouldn't be complete without a mishap along the way.  The
clown
broke her shoe, oh no!

If it's starting to look a little smokey… it's because we're getting close. 


We're getting close to…
 *shudder* 
…that house.  The house complete with cemetary, zombies, a man with  a chain saw cutting up the zombies, a casket… you get the picture.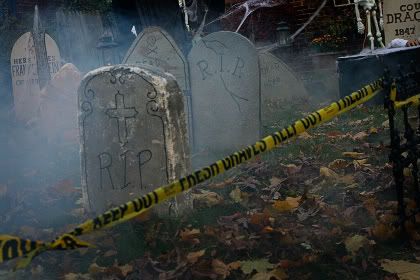 Oh yeah, and this man hanging out the door with a tree branch sticking out his mid-section.  The adults were entertained, but I had to help collect candy from his blood covered hands for Baby Blue.
(Some of us adults did stop back by, sans kids, to see this place in the dark… with their strobe lights, hanging/moving ghosts, and acting in full effect)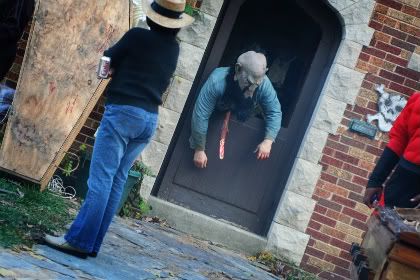 I just love this blurry, running picture.  This is what happened every time a large, scary warewolf walked by…. she'd say, "It's just a costume. Like mine." and then take off running.

As the evening went on, Baby Blue became a pro at this whole, collecting candy for free thing, and would make her way up the paths to the houses all by her very proud little self.

This is what happens when little legs get tired and nightfall begins to cover, wrapping us in a blanket of dark.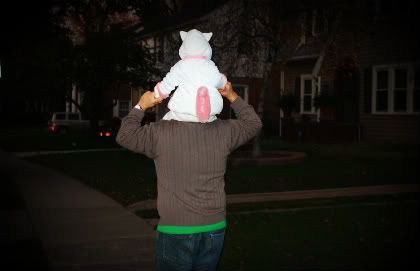 Ah, my handsome husband with my baby girl just makes my heart melt.
Baby Blue was more than thrilled to play with my brother, and Crystal's husband, Uncle Jeremy.

This is my favorite part of the evening… caramel apples.  Briony, formerly known as the clown, was ready to dig in, grabbing herself a juicy green apple to dip.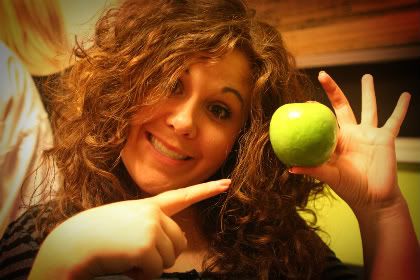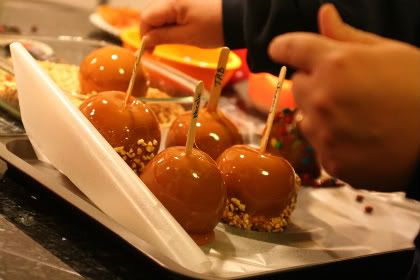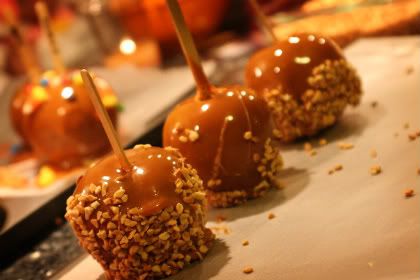 Some of us were more willing to share than others.  Me?  I kept my apple all to myself, thank you very much.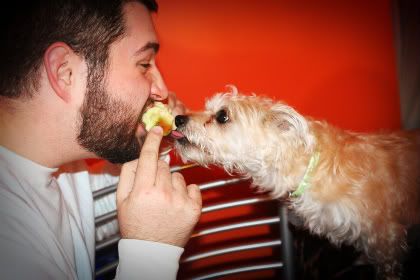 And when Baby Blue starts to look like a candied out zombie herself, it's time to head home and let that sugar plunge knock her out till late morning.