This post may have affiliate links, which means I may receive commissions if you choose to purchase through links I provide (at no extra cost to you). As an Amazon Associate, I earn from qualifying purchases. Read more about these links in my disclosure policy.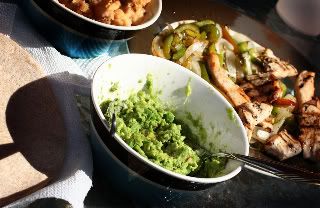 Warm days are here again.   Is it really fall or is it summer?? While the
brisk mornings greet me as fall, the warm afternoons still echo summer.  
We couldn't let that sunshine go without it kissing our cheeks,
so we moved our dinner outdoors and to the grill. Fajitas.
 They were the perfect balance between the dancing seasons.
 Fresh homemade guacamole gave the taste of summer, while the grilled veggies and chicken led us into fall.