This post may have affiliate links, which means I may receive commissions if you choose to purchase through links I provide (at no extra cost to you). As an Amazon Associate, I earn from qualifying purchases. Read more about these links in my disclosure policy.
It started as a morning making bread, and quickly became a morning of playing in a cloud of white.  Baby Blue was helping with the ingredients…
Pour in the water,
check.
Pour in the butter,
check.
Add some yeast,
check, check.
Dump in the flour,
check. (a little mess began at this point)
Add a pinch of salt,
check.
And then when mommy turns her back, dump the rest of the salt all over the kitchen counter and spread it around as fast as you can,
check!
Oh, yeah, and

don't forget to push it to the edge of the counter and see what happens.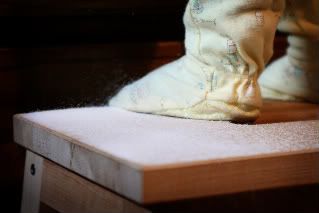 Who would've thought making bread would be so much fun.  
Well, I guess Baby Blue sure did.  

Check.