This post may have affiliate links, which means I may receive commissions if you choose to purchase through links I provide (at no extra cost to you). As an Amazon Associate, I earn from qualifying purchases. Read more about these links in my disclosure policy.
I've never lived on a farm… never even wanted to (and still don't).  Trips to the local Farmer's Market, or a visit to a farm store for fresh food, well, that's about as close as I get.  I don't usually like the smell, especially when animals are involved.  So, I find it strange that now I have a child and I look forward to (and actually enjoy, shh) trips to the fruit farm near us.  Baby Blue loves it as well.  I want her to grow up knowing where food comes from… not from that huge metal building where you can just give them a plastic card (which looks like a toy), and walk out with whatever food you want.
I want her to really know where food comes from… so I take her to the source.  What I've discovered is that I really like it myself.  The food tastes so much different… umm, fresh.  It also takes my mind back to the place where families grew (or raised) their own food.  Everything was fresh, and healthy.  There weren't so many additives.  You spent more time outdoors in fresh air, and less inside, sedentary.  I like going to that place in my mind.. and our family is slowly moving to that place (sort-of).  I'll probably still never live on a  farm, but I think next summer will be the perfect time to have a garden…
Mmmmm, nothing like fresh picked berries!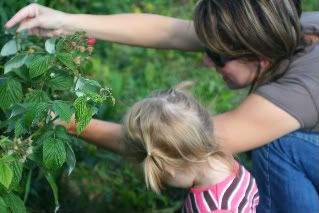 … showing Baby Blue how to find the "reddest" berries (I know, it's not a real word… but she understood).  She really wasn't interested though, she just wanted to eat them.
I love that you can see Mr. Wonderful in the reflection on my sunglasses.
What a cute little butt.
She was hearing me tell her for the 107th time to put the berries in the container so we could take them home, but she pretended not to understand and the berries ended up right back in her mouth.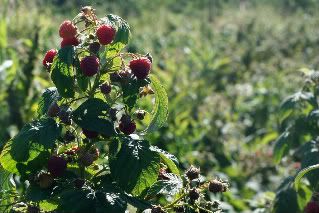 Thank you, raspberries, for another season of fresh-picked satisfying goodness, until next year when we meet again.