This post may have affiliate links, which means I may receive commissions if you choose to purchase through links I provide (at no extra cost to you). As an Amazon Associate, I earn from qualifying purchases. Read more about these links in my disclosure policy.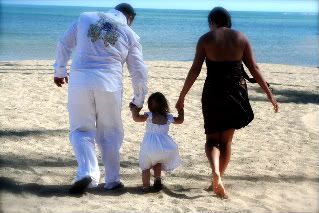 It's amazing… at the very moment I'm sitting here (late, dark and rainy outside… I mean, really rainy with the whole lightning, thunder and street flooding), it's a beautiful sunny day somewhere else. Hawaii, for example. 6 hours behind me in time zone, and wow, what a difference it makes. We just returned home from an incredible vacation, including the wedding of my brother, communion on the capital steps of Hawaii, and then other fun adventures like parasailing, rock jumping, hiking and sight-seeing… oh yes, and LOTS of beach and pool time… my personal favorite. With the 6 hour time change it made adjusting to the time zone there fun… and of course adjusting back to the time zone here even more fun… I mean, challenging. For example, the past few evenings, my husband and I have been up until 3am or later (earlier?)… and still getting up early. Hmmm, maybe I should cut this blog short and try to get some shut-eye tonight… we'll see.
The thing I like best about family vacations though, is that we're all in it together. The fun times and the tiring times. We just had a blast being a family! It was wonderful to see my daughter experience all the new and exciting things that we don't have here in our home state of Michigan.. like the large, salty ocean waves! Yes, it was so adorable to see Aliyah wake up in the morning and point to the door and say 'wawa!' before anything else. (Yes, she said water) She wanted to go to the beach or pool or whatever puddle she could find to jump and splash in. This made us very excited to open our pool for the summer. Ahh, June, I'm so glad you're here. I digress… I was in bliss just watching Aliyah have so much fun on this trip, learning so many new things. We can get caught up in bills, distractions, gossip and so many other things and not even enjoy all the wonder that can be found in simplicity. So here's my thought… take pleasure in the simplicity. Learn from babies. Go green! (What? Oh, I guess I got caught up in the excitement of making statements, 😉
Really, though, spend time with those close to you and enjoy all that there is to enjoy on this large, great, green planet earth!
Another thought just hit me, Aliyah really isn't a baby anymore. She'll be 21 months old in 2 days! Over a year and a half old. Wow, she's growing up to fast for one… and also, my belly still has a little extra real-estate. Although, do you really think that 1 1/2 years is too soon to lose all the baby weight… I mean, come on, how much extra pressure do we mothers need, lol. Embrace the love handles! Viva la real-estate!