This post may have affiliate links, which means I may receive commissions if you choose to purchase through links I provide (at no extra cost to you). As an Amazon Associate, I earn from qualifying purchases. Read more about these links in my disclosure policy.
We've been living in and loving our home for about a year and a half now, and we've been SO excited to share the process of making this house our home by sharing our home improvement projects here and our House to Home series on YouTube!
It's been a big undertaking, that's for sure! We've had every room, and just about every surface, on our master home improvement projects list since the first walk-through. Now that our kitchen is completed, the master bathroom seeing progress and so many other projects that we've completed (and just waiting for me to update this blog space here), we're making our project list for 2019!
Since I'm always making a list in my mind, I thought it would be great to share the projects that are still on our list so you can follow along on the journey as well… and see what we tackle in 2019!
Our Home Improvement Projects List for 2019:
This list is in no particular order, just sharing!
The Laundry Room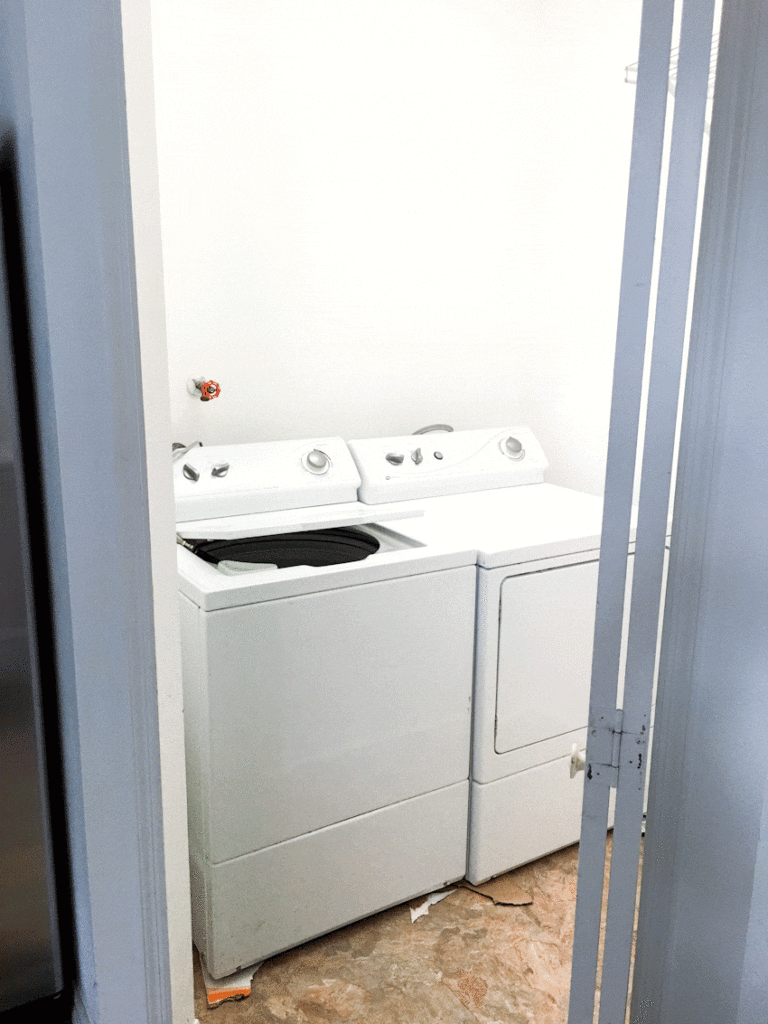 Now that we converted the small laundry room off the kitchen to a pantry (while moving our laundry to the garage), and have closed off a portion of the garage for a homeschool room, we want to complete the update and make the laundry area more "official".
The Girl's Room
We've already done a few updates in the girl's room, like paint the walls, change the floor (when we laid new flooring throughout the house) and updated some closet organization… but we want to maximize the space, and the tall ceilings, with a loft-style bed for our oldest.
Finish Living Room Design
While we actually have our fireplace installed now and complete (I have to share here!!), I don't have it styled yet and I do need to find a couple of chairs to add to our living room seating arrangement. Any ideas?
The Main Bathroom
Though it's almost done (after completely gutting the space), we still need to finish the vanity, and finalize the space with a few little touches.
Paint Exterior
Now that we've updated the front door area, it's time to finish painting the exterior and get rid of the yellow! PS. Do you know what your front door colors says about you?
Accent Wall in Dining Area
We've got a wall at the end of our dining room table that just needs a little "uumph". I recently asked about it on Instagram stories, and loved the responses and idea for making it a true statement wall… and I'm SO thinking a dark statement wall!
Hang Photos
It's time to stop letting photos live in the digital world only and get a few of our favorites on our walls. I'm totally swooning over a floor to ceiling gallery wall and have been for some time now. Maybe this is the year I will make it happen.
Front Landscaping
Ever since our backyard makeover with this DIY privacy fence, we've been itching to up the ante (and curb appeal) by working on the front yard.
Master Bedroom Closet
While our walk-in closet lives behind a custom barn door, and I can totally hide it, I still want a serene environment to choose outfits, get dressed and start my day off right. It's not a large space, but a little organization and purging will do wonders.
Backyard Play Area
We've been looking at swing-sets, and decided we wanted to build our own area, to add to this little climbing area, as incentive for the kids to play outdoors.
So, friends, these are the projects we've got on our list for the year so far, I'm sure we'll add to it! In fact, I just remembered that I wanted to updated our bedding and curtains in most of the rooms… but alas, we will see where we land with it all.
What kind of home improvement projects do you have planned for the year? I'd love to hear! And of course, if you have any questions or special requests from us, I'd love to explore that as well.