This post may have affiliate links, which means I may receive commissions if you choose to purchase through links I provide (at no extra cost to you). As an Amazon Associate, I earn from qualifying purchases. Read more about these links in my disclosure policy.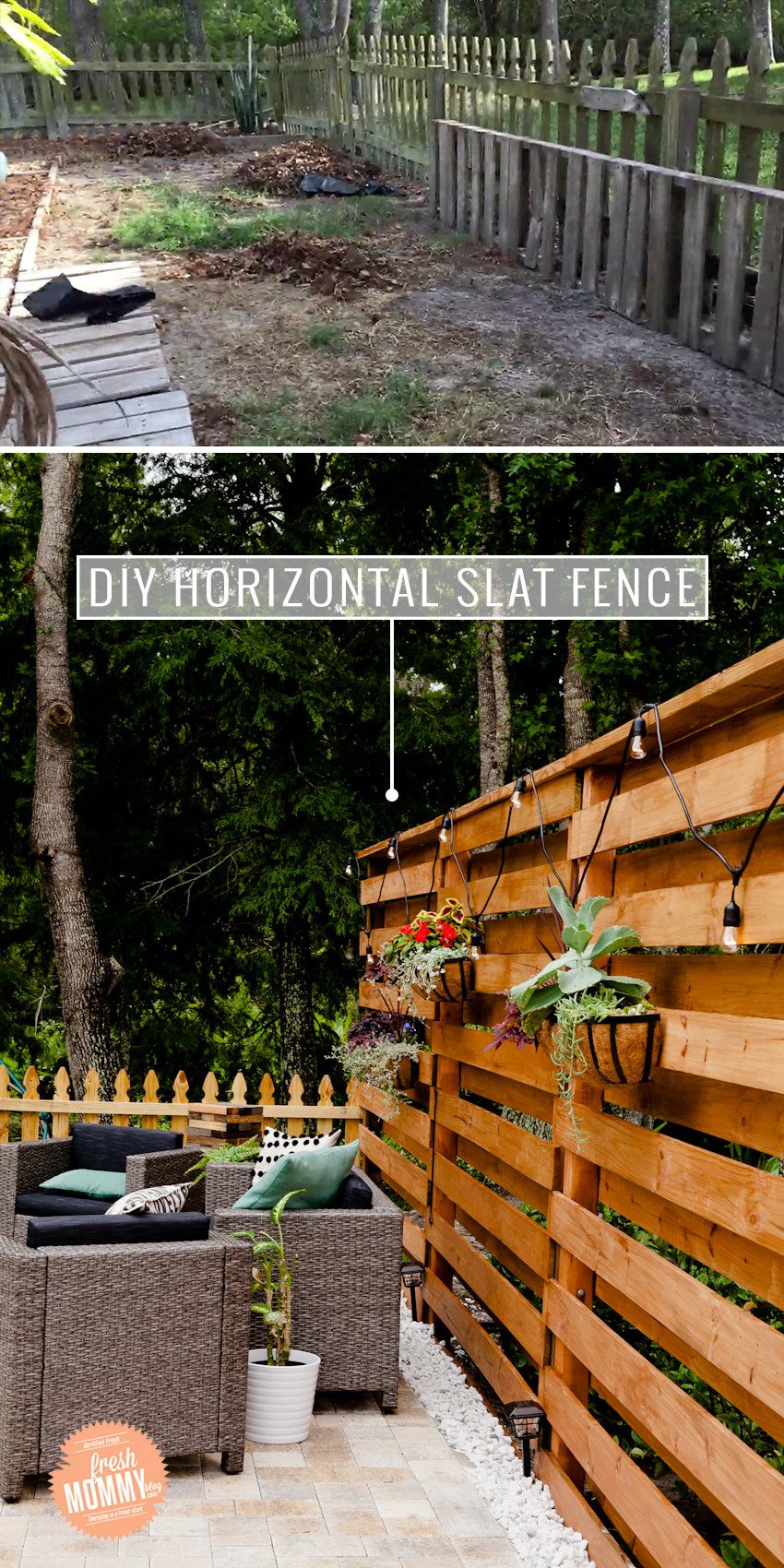 One of the things that really made me fall in love with our home was the backyard view! You can hear me wax on about it and how much we were excited to makeover the outdoor living space in our very first episode of House of Home.
What is truly great about an outdoor space is that it really opens up your home. It's an extension of your living square footage, especially when the weather cooperates… and goodness, we were ready for some cooperation and the tropical storm to let up a bit!
Thankfully, during the dry moments between the bouts of rain, we were able to take on a new project that has been on our minds, and our ever growing home makeover to-do list for awhile. In fact, when Lowe's asked us to take on a weekend warrior project for the yard, we knew EXACTLY what project we wanted to tackle. As one big piece to our backyard makeover, this horizontal slat fence DIY totally delivers in both style and function!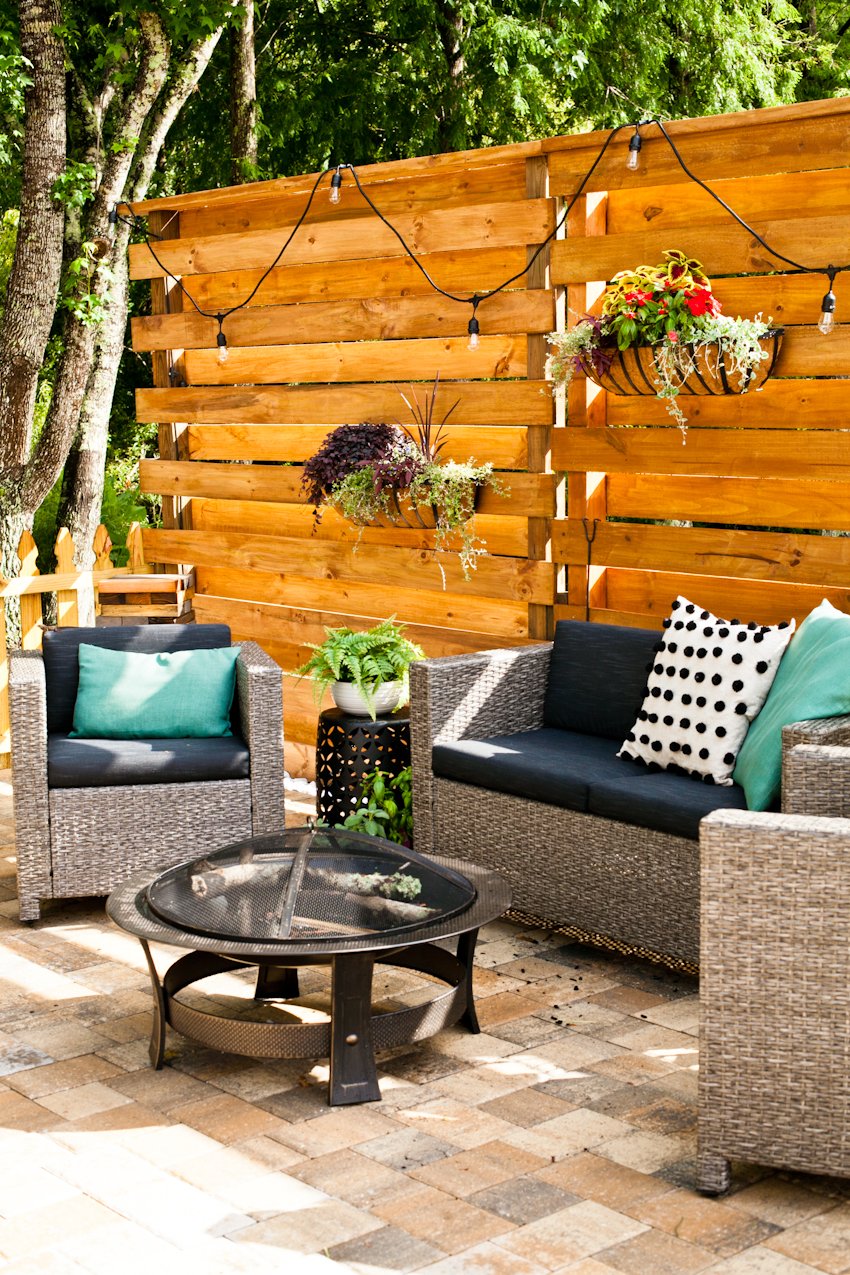 When thinking home renovation projects, our first thought is usually to put time into the inside of our home. The main living areas, like the living room and kitchen, are typically where we spend the most of our time, so naturally we put effort into making them over first. I have to say though, once you begin really looking at your yard as an extension of your living space and treating it as such, it creates a much larger footprint for your family to enjoy. And our entire family is loving the outdoor oasis we've created with our backyard makeover.
Now, when I look out of our large windows (that initially made me fall in love with our home) and take in the view, I still get those towering trees and sights of the natural preserve behind us. However, with our new horizontal slat fence DIY project, I'm not taking in the view of our neighbor's house or backyard anymore – solely our own backyard sanctuary.
At just under $100 in materials per section, this is a cost-effective way to create a really grand privacy fence that can truly become a statement piece in your yard.
Keep reading for our full step by step of the DIY process…
HOW TO MAKE A STUNNING HORIZONTAL SLAT FENCE
MATERIALS NEEDED FOR YOUR HORIZONTAL SLAT FENCE
For one 8′ section of Horizontal Slat Fence:
(16) 1″x6″x8′ pressure treated common boards
(1) 2″x6″x8′ pressure treated common board
(2) 4″x4″x8′ pressure treated common posts
1/2″x6″ lag screws
Finish nails
1 5/8″ deck screws
Thompson's Water Seal stain and sealer
Paint Brushes
Note: We are using pressure treated wood for outdoor use.
I loved not having to go in the store to find and select all the wood and necessary supplies. It was quick and easy with online order pickup! You can make an online order from comfort of your own home so you can save time and just pick up the supplies.
TOOLS
Drill
Impact Wrench
Level
Nail Gun
Post-hole digger/shovel (optional, see below)
INSTRUCTIONS FOR YOUR HORIZONTAL SLAT FENCE
Set the posts.
If you have existing fence posts you can utilize these posts and attach new 8-foot 4×4 posts to it for a quicker project.

Hold the 8-foot 4×4 post in place next to the existing fence post and using a drill with a 1/4″ wood bit, pilot a hole for each lag screw, two lag screws in each new post. (This is what we did.) 

If you are beginning a completely new project you will need to set the posts in the ground at least 12" deep (which will make the final fence shorter than ours).

Use a post-hole digger to make a hole 8 inches wide and just over 2-feet deep.Pour about 4 inches of gravel for the base, and then insert the 8-foot 4×4 post into the hole. Then pour fast drying concrete mix into the hole surrounding the post. Use a three-way level to make sure the post is standing straight. Tamp down the dry concrete. This draws natural moisture from the ground to harden or "set" the packed concrete around the post.(Or follow instructions on the bag.) If you want to learn a little more about concrete, in particular, sealers, then check out sealwithease.com.
  For this option, you will need to let the posts set overnight.
Install the slats.
Once posts are set, begin attaching the 1″ x 6″ x 8' planks beginning at the top of the fence, to make sure it stays flush. You might want to consider using a level to

 make sure each slat is installed level. Evenly spacing the slats as you go, and alternating sides, attach them to the post using a nail gun 
Note: you may want to get at least one person to help hold it level while the other person nails into place. 
After horizontal slats are hung, go back and place two brown deck screws (to match board color better) to secure to each post.  
Finishing touches.
To give the wall a more finished look, add a cap. Secure

 2″ x 6″ x 8' boards to the top of the fence by screwing into the top of the posts. 

Once all boards are secure, break out the drop cloth and begin using a paint brush to stain the new fence. We stained in place although in hindsights, we suggest staining boards before you install them as it wasn't easy to reach through the slats to cover it evenly and completely. While your posts set, stain all of the wood and you'll save time.
Note: staining the wood with an outdoor stain and sealer not only enhances the color but also seals the wood from moisture and rain. 
For a finishing touch at the base of the fence, consider adding mulch or stone. We like the white contrasted with wood grain and went with white marble chips.

Add an extra pop of life and color with planters. 

You can either direct mount with screws or hang per instructions,

 fill with top soil and flowers and plants. I have a tutorial for thriving window box planters and the tips apply to these hanging planters as well!

Top it all off with a string of lights and hang them as you choose. Most come with a ready-hang screw hole to easily attach to the wood.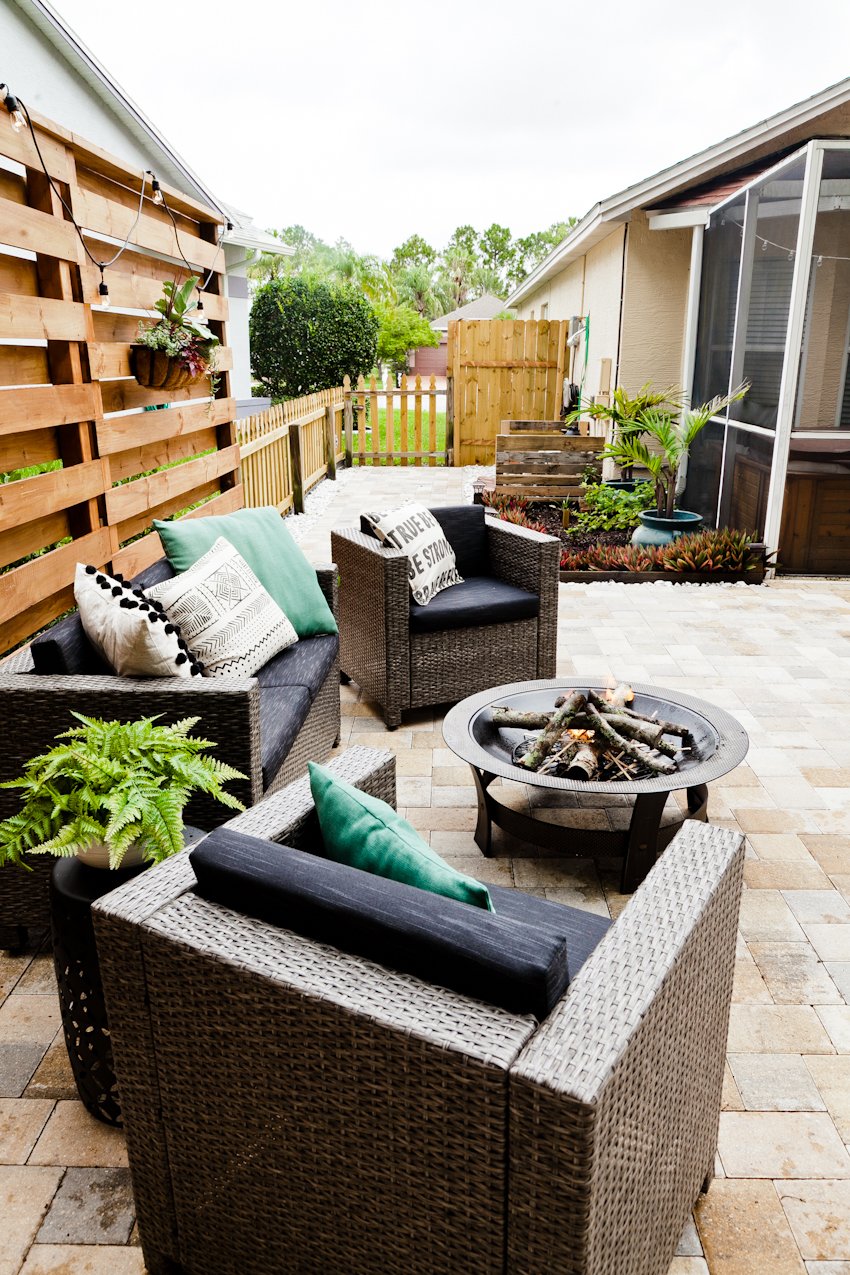 All in all we took close about 8-10 hours to make this project happen, of course, we enlisted the help of our kids and we all pitched in to get it done fairly quickly. You can opt to put in one full day and get-r-done or split up some of the work each day for a transformational backyard weekend warrior project!
So what do you think? Do you have any summer outdoor projects on your to-do list? I'd love to hear!
Like this DIY horizontal slat fence post? I'd love if you give it a share! Just click the heart when you hover over the images to Pin It and save for later!